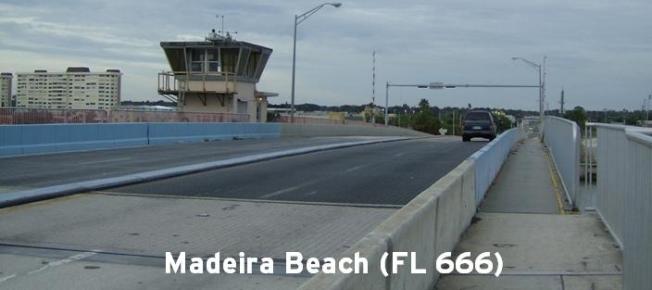 Madeira Beach Causeway, Madeira Beach
Connecting US Alternate 19 near Bay Pines with Gulf Blvd. in Madeira Beach, the Madeira Beach Causeway was built in 1962 replacing a low level drawbridge and is a part of FL 666. The bridge was built like the high level drawbridge version of the Clearwater Memorial Causeway (the bridge before the present high level fixed span) and the Madeira Beach Causeway was retrofitted not too long ago incorporating the latest pedestrian and motorist safety features.
The Madeira Beach Causeway is also called the Welch Causeway (when it was opened in 1962) and the Tom Stuart Causeway. For the sake of simplicity we will refer to both names as the Madeira Beach Causeway.
The Madeira Beach Causeway is a single bridge with four lanes of traffic carried along with a concrete and steel physical low level median barrier. Back in the days of the old Treasure Island Causeway the Madeira Beach Causeway (together with the Johns Pass Bridge) was a good alternate route to Treasure Island, not to mention avoiding the toll that used to be collected on Treasure Island.
Like most drawbridges in Pinellas County, the Madeira Beach Causeway opens on a predetermined time schedule during the day on weekdays and weekends. At other times the bridge opens on demand. When the Madeira Beach Causeway is opened to let boats pass through, traffic backups are created especially westbound traffic headed to the beaches when it can get backed up all the way to Duhme Road (113 St N) on a good day.